Our sukiya-style(*) restaurant, "Kagurazaka Sushi Rin", emanates a calming aura, with its striking L-shaped counter made from a beautiful 6-meter-long slab of domestic Hinoki cypress, an increasingly rare material to procure. This space lends itself to unforgettable moments spent with your loved ones.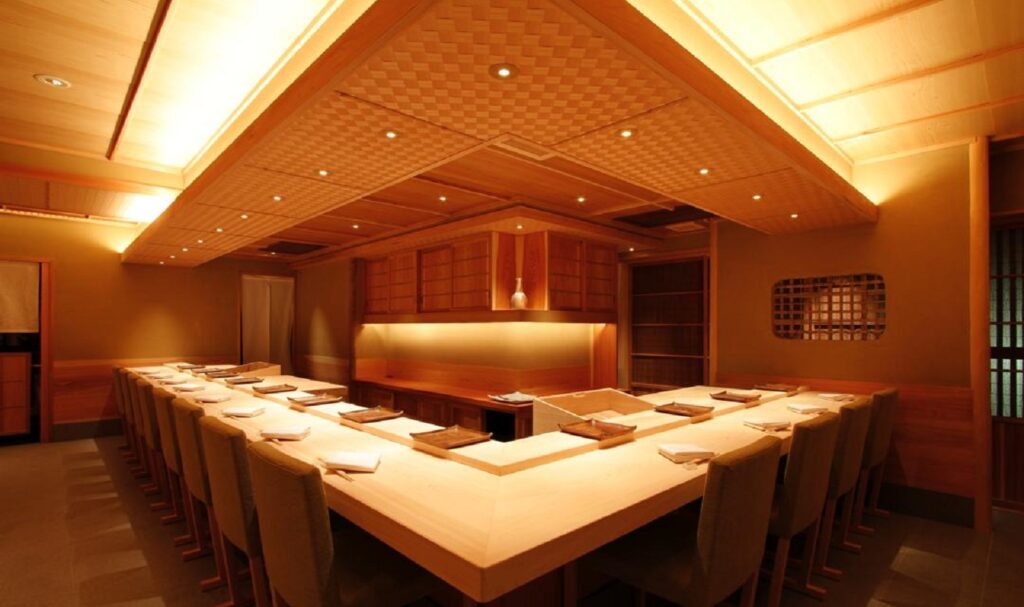 Our establishment is renowned for our authentic Edomae sushi and the delightful pairing it forms with champagne, wine, and Japanese sake. Our menu features seasonally inspired courses that tantalize all your senses. Moreover, even if you are not accustomed to strong alcoholic beverages, our knowledgeable sake sommelier can provide thoughtful recommendations for a drink that suits your palate.
(*) The style that "sukiya style" was one of the Japanese architectures, and adopted technique, a design of the tea-ceremony room architecture.

The Course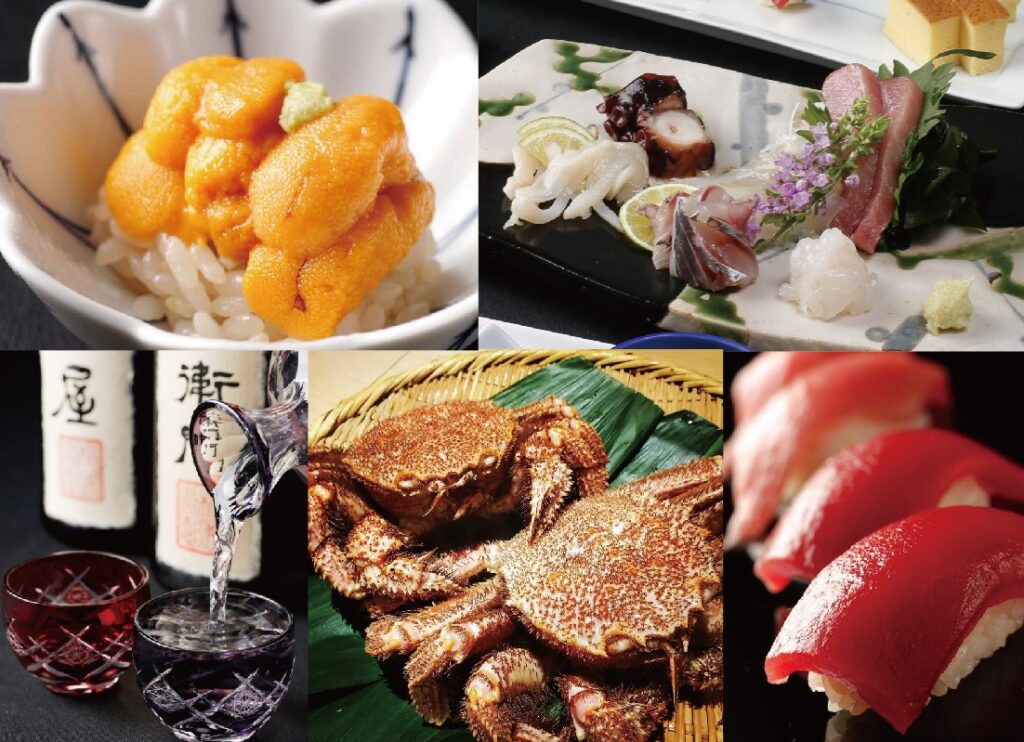 Our courses are designed to be enjoyed leisurely, over a period of 2 to 2.5 hours, savoring our exquisite sake, appetizers, and nigiri sushi.
For reservation, or see more about the course menu, please click the buttom below.

An Encounter with Rare Japanese Sake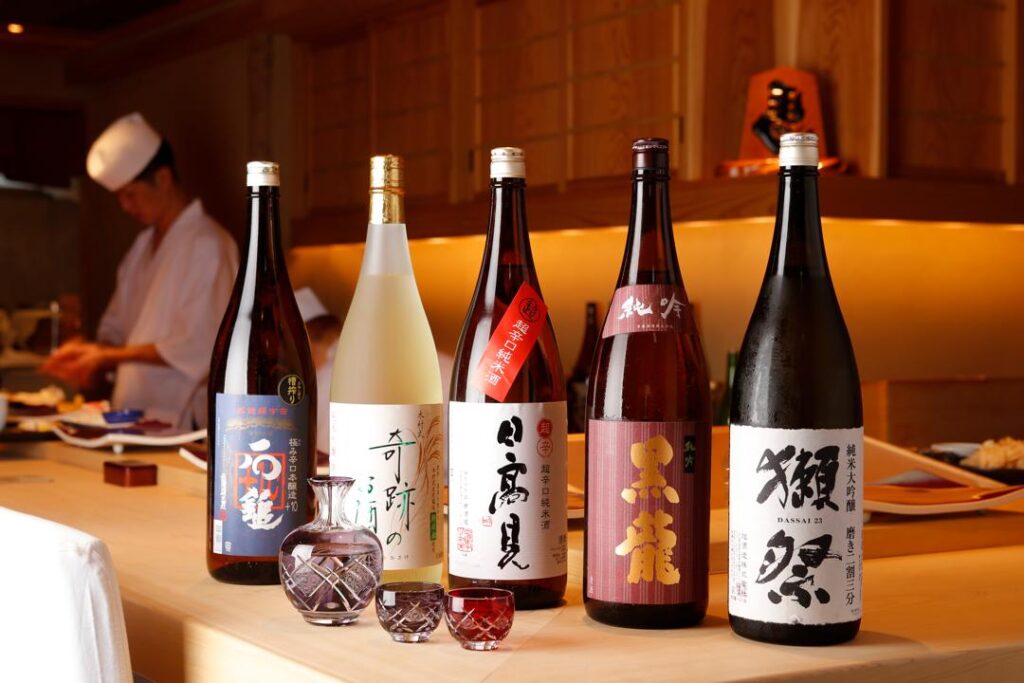 At "Kagurazaka Sushi Rin", the true charm lies in the marriage of authentic Edomae sushi and Japanese sake, wine, and champagne. One of the exciting features is the chance to experience rare Japanese sake.
As for rare Japanese sake, we offer "Gokudaiginjo Genshu Muromachi Era" from Okayama Prefecture. This Japanese sake, made from 100% Yamada Nishiki rice, has won first place in numerous international liquor contests such as Monde Selection, IWSC, BTI, LAIWSC, and more. The rich ginjo aroma that fills your mouth and the umami that rivals it have earned extremely high praise. Our sake sommelier will carefully suggest Japanese sake that suits your preferences, even if you are not familiar with Japanese sake. Please feel free to ask if you have any requests. Moreover, for those who are not keen on strong alcohol, we offer "Aragoshi Umeshu", which allows you to abundantly experience the fragrance and fruity flavor of Yoshino plums, and "Hoou Biden Yuzushu", made generously with high-quality yuzu from Tochigi Prefecture.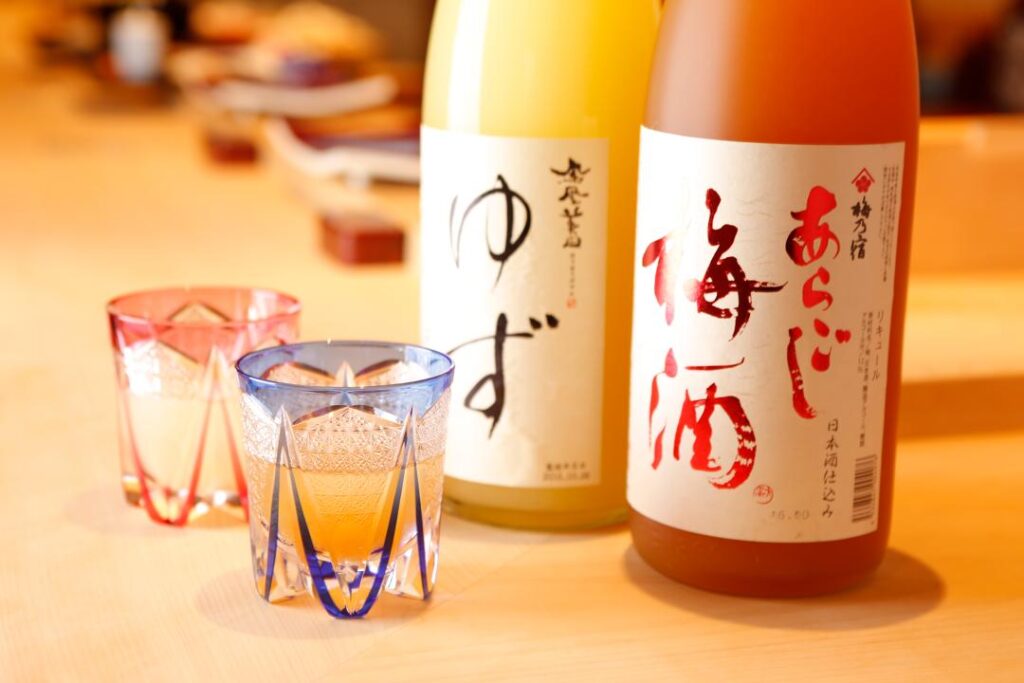 The Use of White and Red Vinegar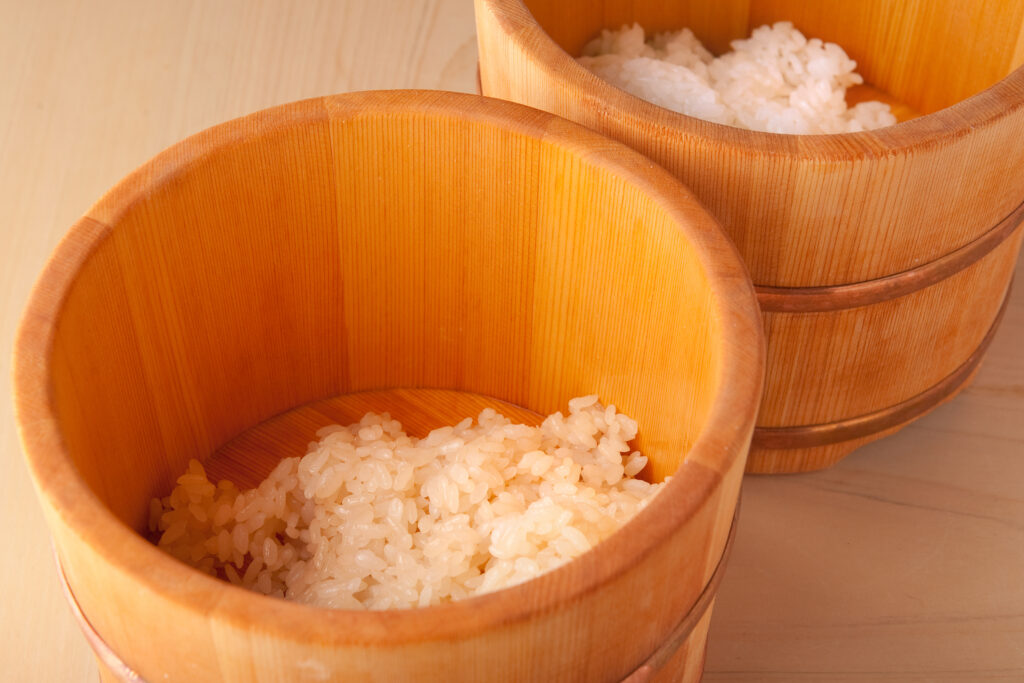 We optimize the taste of our seasonal ingredients by pairing the lighter ones with white vinegar and richer ones with our uniquely blended red vinegar, accentuating the appeal of our ingredients.

Signature: Two Types of Tamagoyaki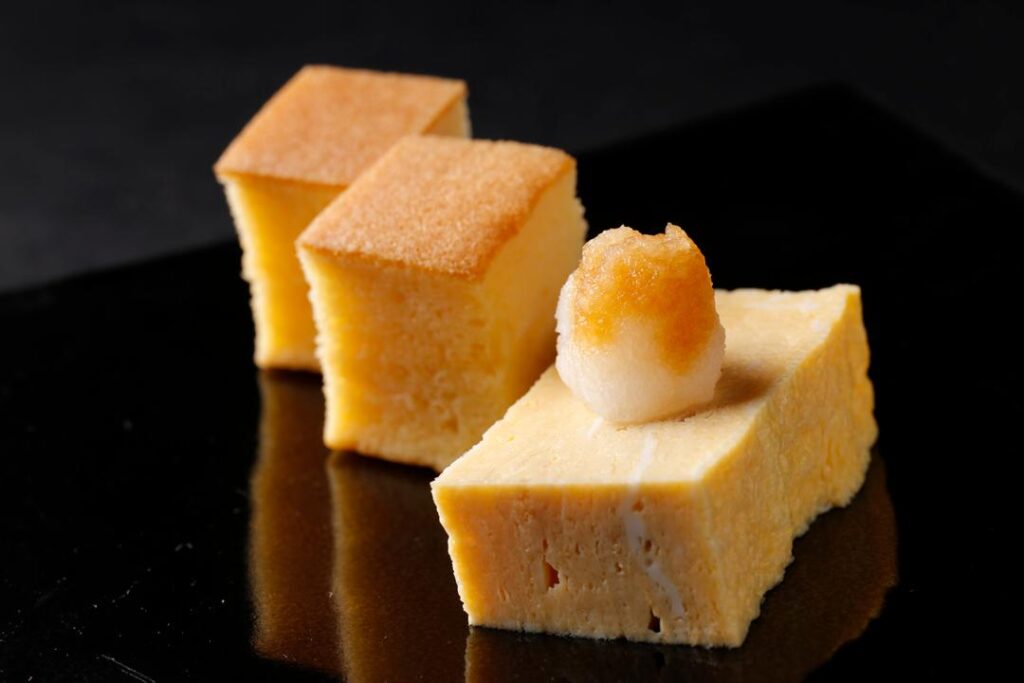 Our restaurant is particularly famous for our tamagoyaki – we serve two varieties, a thick omelet and a dashimaki-style (rolled with dashi). This attention to detail has garnered us steady popularity since our opening.

Our Commitment to the "Unseen"
Our dedication to hospitality extends beyond our cuisine. The subtle placement of tasteful Bizen ware and flower arrangements adds warmth to the ambiance. We have installed floor heating and air conditioning that does not blow directly on you, ensuring the utmost comfort for our guests.

Counter Seats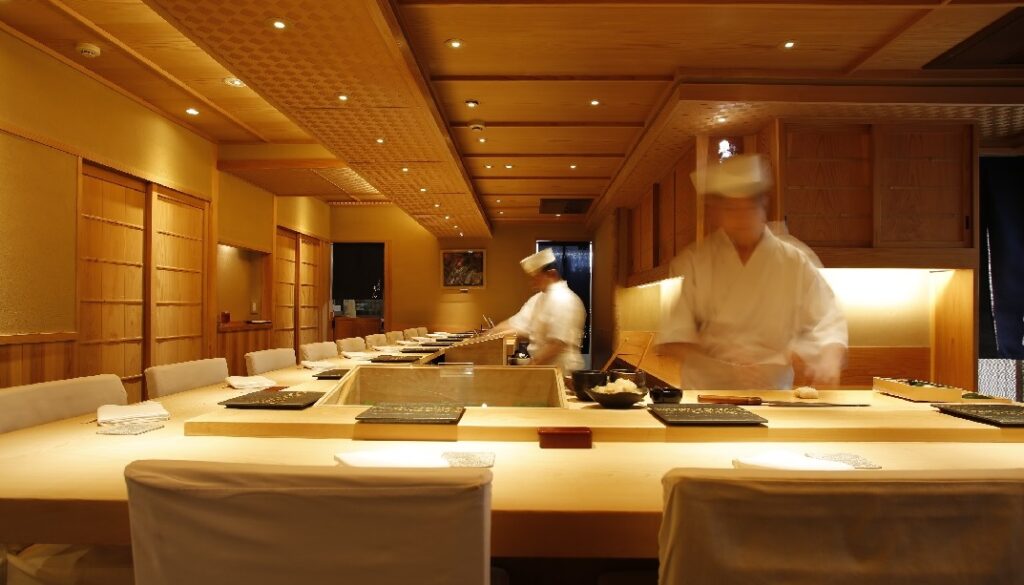 While our counter seats offer a unique atmosphere, filled with a certain tension and special ambiance, it's also a space to enjoy seasonal ingredients and drinks at a leisure pace. Casual conversations with the sushi chefs also add a unique touch to the experience.

The Private Room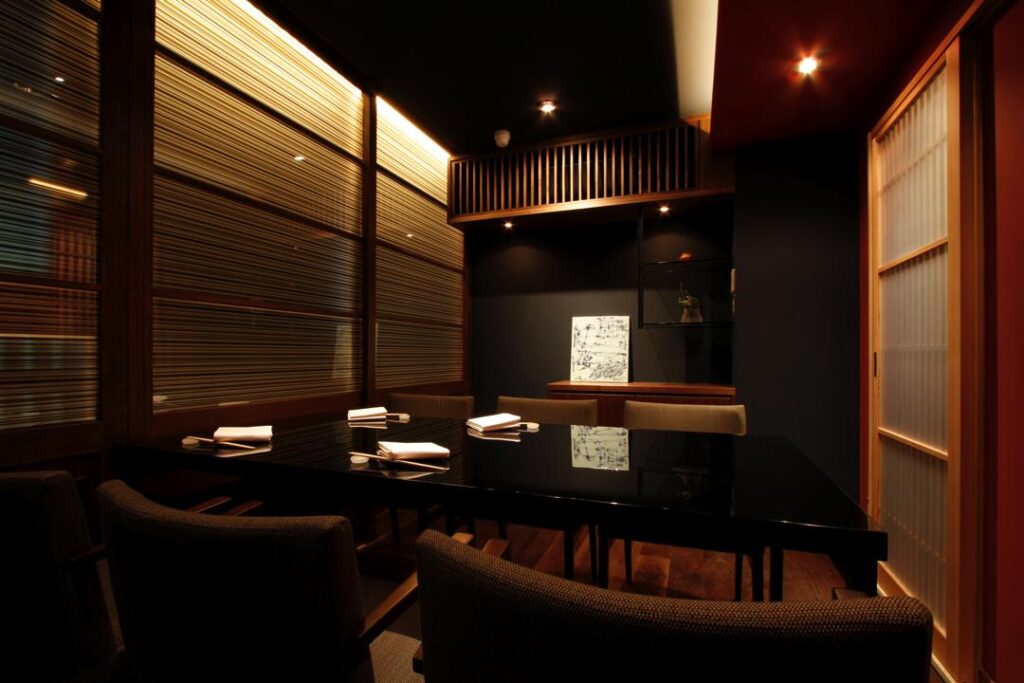 Our completely private rooms, accommodating 2 to 6 guests, exude a modern yet calming atmosphere in black tones. Ideal for important business meetings or special occasions, it provides a tranquil haven in Kagurazaka. As a high-end sushi restaurant, we've taken care to omit the typical "tension" associated with a counter-main setting, allowing our guests to relish seasonal ingredients at their best, attentively providing 'hospitality' down to the smallest detail.

Celebrating our 10th anniversary in February 2023, "Kagurazaka Sushi Rin" has made a name for itself amongst the long-established and popular shops in the area. Over the past few years, securing a reservation has been notoriously difficult, reflecting its whispered reputation. Whether you're interested in making a reservation is almost always necessary.
A visit to Kagurazaka Sushi Rin promises an unparalleled dining experience, an intimate conversation with the masters of the craft, and a taste of Japan's seasonal bounty. We invite you to indulge in our celebrated sushi and savor the finest of what Japan has to offer.